The best robot vacuums for pet hair of 2021
Views:0 Author:Site Editor Publish Time: 2021-08-16 Origin:Site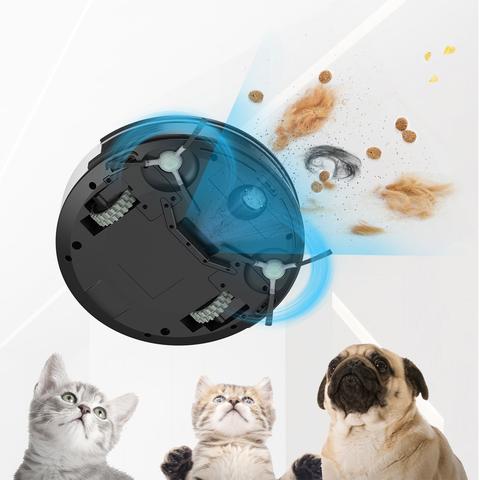 Vacuum Cleaner Suction Ability

Vacuum Cleaner Filters

Lightweight Vacuums
It's great to have pets in your life. But with pet hair? It's just so so.
It is very common for pets at home, whether cats or dogs, to lose hair. Many animals even lose their hair all year round. It can be said that it is a pleasure to roll the cat for a while, but the trouble brought by pets is far more than shoveling excrement and wiping the ass. what is more troublesome is the flying hair all over the house. The interesting thing is, the amount of hair shed by your pet in one day is enough for you to make a new pet at night. If you don't deal with it in time, it is easy to produce all kinds of bacteria. If this resonates, it may be time to use a robotic vacuum cleaner to remove pet hair and other dirt from the floor of your home. These automatic cleaners can be set to run on schedule, so the only thing you have to do is empty the dustbin occasionally.
How to Choose a Vacuum Cleaner for Thick Carpet?
It is very cumbersome to clean thick carpets. It would be best if you considered the following when choosing your vacuum cleaner.
Vacuum Cleaner Suction Ability
You need to have a vacuum cleaner a strong suction power to make sure you have removed all the dirt trapped in the fabrics. Cleaning a high pile carpet is difficult when the suction power is low. The fibers trap dust, dirt, and fallen materials deep into the layers which have to be removed appropriately. The strong suction power leaves your carpet clean and free from odour.
Vacuum Cleaner Filters
Your thick mat attracts a lot of dirt trapped in the fabrics. This dirt is fair in size and can quickly get into the air. The most appropriate air filter to use is the HEPA filter. The HEPA filter is able to trap the dirt and dust in your vacuum cleaner. Use vacuum cleaners with filters to avoid allergens attacking any allergic person around you. Protect your health and mat by using a vacuum cleaner with air filters.
Lightweight Vacuums
You probably get tired when cleaning the house and floor. Cleaning your mat should also be accessible. Use a featherweight vacuum cleaner and save your energy. The high pile mats also have tall fabrics. To push a heavy frame on, it needs a lot of energy.
It is easy to carry across the room. It will not destroy your tall fibers. You do not have to move seats to get to the point you want to clean. It is energy and time-saving.
Brush Cleaners
You need a vacuum cleaner with brushes to complete your cleaning process. The best choice of brush would be a roller brush. Some vacuum cleaners use the soft roller Brush. This kind of roller brush is gentle on carpets, tough on dirt. The soft roller brush can capture dust and debris at the same time.
Venting
You will find that some vacuum cleaners get stuck on the mat while cleaning. Venting allows and regulates the free flow of air during the cleaning process. The air trapped between the vacuum cleaner and the mat's surface allows easy movement of the cleaner. It enables your cleaner to move quickly without getting stuck.
The Lefant M210 is one of the most compact quiet robotic vacuums in the market with powerful suction. At 2.8" H and only 11" L, this wireless robot vacuum can reach tight spaces and clean under furniture easily and efficiently,
Designed with Built-in anti-collision sensors, object mapping, 360-degree sensors, multiple cleaning modes, and long battery life make this vacuum unbeatable. Safe for carpet or hardwood floors. Handles pet and human hair clean up with tangle-free technology. Create your own cleaning schedule using the Lefant app and voice control. Cleaning your home is now easier than ever.
Lefant M210 robotic vacuum uses cutting-edge 6D built-in 360-degree anti-collision infrared sensors to help the robot vacuum sense its surroundings. It can even sense objects above it which prevents it from getting stuck. Anti-dropping sensors also prevent the robot vacuums from falling off high places.
Trap allergens
A double HEPA filtration system effectively blocks particles and prevents secondary pollution. The high-performance filter is designed to capturing up to 99% of dust, dander, and pet allergens.
Compact Design
Small, ultra-thin body, with powerful suction. The Lefant M210 vacuum can reach tight spaces and clean under furniture easily and efficiently.
Long Life Battery
The Lefant M210 Auto Vacuum Cleaner Robot up to 100 minutes run time or approximately 1100 sq ft. It uses 1800mah lithium iron phosphate batteries which are safe and durable and long-lasting.
You can use these wonderful, interesting facts to get the best vacuum cleaner for clean mats and tidy thick mats today. Your clean carpets enable you to live healthy free from allergens and dirt that may cause diseases.